For your chance to WIN instantly this summer, play our in app game FLIP FLOP FLAP. The rules are simple…
It's summer in Australia and around every corner lurks a common foe ready to disrupt the serenity. We need a legend to make em' bugger off! 
Using only the mighty Flip-Flop, you need to protect our Aussie delicacies by swatting away these menaces. Swat as many as you can in 30 seconds for your chance to win a prize instantly – every single day!
18 November 2020 - 9 March 2021
Where to find the FLIP FLOP FLAP game
The FLIP FLOP FLAP game lives inside our app. If you haven't already, download the "NightOwl Aus" app from the Apple or Google Play stores.
Once you have signed in, you can either go to your "Home" tab or "Perks" tab where you will see the game banner in both places. Then it's as easy as tap and play!
How to play FLIP FLOP FLAP
When each game first loads, you will see our mascot Owlando holding an Aussie delicacy in the middle of the screen. Once you press the "START" button and the 30 second timer starts, winged menaces will begin flying in at every angle trying to attack Owlando. 
You need to swat these menaces with your Flip- Flop by tapping on them. But be weary, the speed at which these foe fly in, increases every 5 seconds – so protect Owlando at all costs to increase your chances of winning! 
FLIP FLOP FLAP will reset daily, giving you more chances to win bigger and better every 24 hours.

At the end of each played game, 1 of 3 screens will pop up...


Winner! You have won a delectable prize, ready and waiting for you to enjoy!
Each prize won will expire at midnight that same day so be sure to visit your local NightOwl to claim your prize that day. 
If you are instore already when you win an "INSTANT PRIZE", you can click the "Redeem Now" button. You will have 10 minutes to redeem your prize. 
Simply grab your won product and present the QR Code on your screen to the clerk behind the register. Then scan and enjoy!
Note that your prize will disappear after 10 minutes and cannot be reclaimed once the timer has finished. The animated clock as well as the countdown timer must be in motion in order to redeem your prize. Screenshots will not be accepted.
If you are not instore when you win an "INSTANT PRIZE", you can click the "Save for Later" button. This will safely store your prize under your "Perks tab". When you are ready to redeem, follow the steps above. 
Note that you must redeem your prize that same day as a saved prize will expire at midnight.
You're going to look HOT this Summer! You have won a limited edition piece of Summer Merch! 
We have everything from drink floaties for those pool days to Wakeboards for those beach days. All the fun of summer just waiting to be won by you!
This one's easy – We'll send your win straight to your doorstep! Simply hit the "Claim Now" button and fill in your address.
It's not all bad! If you play a game and don't win, you still gain 2 entries into the $5,000 Major Prize draw! 
Increase your chances of winning by shopping instore. Every $5 spent on absolutely anything will get you 1 entry into the $5,000 Major Prize draw.
The lucky winner will be drawn on 10/03/2021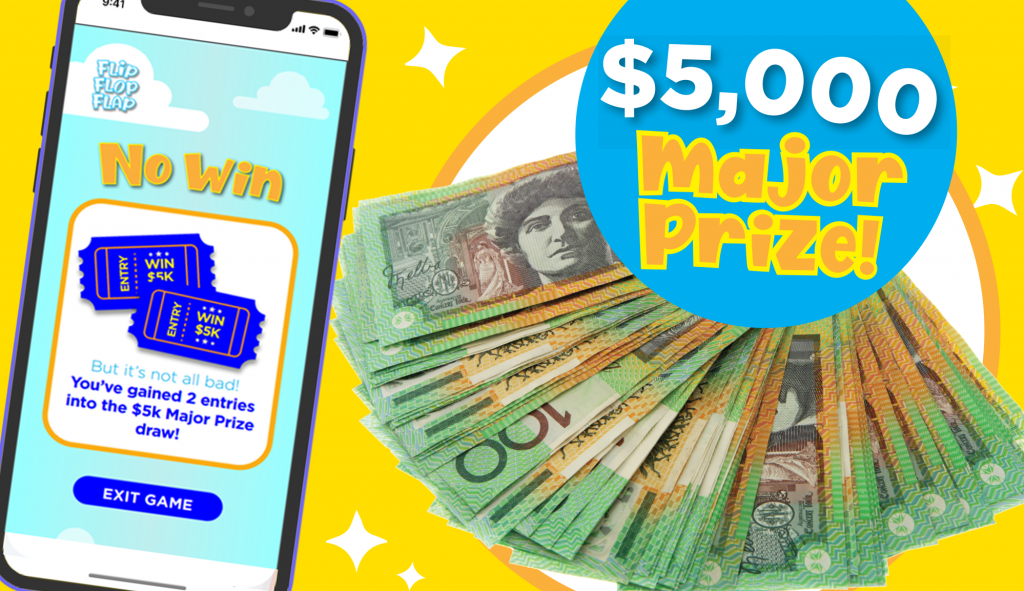 Increase your chances of winning the Major Prize...


THE GAME CHANGES EVERY MONTH!
You're going to be busy this summer! Test your skills in different scenarios ever single month and win yourself a little something while you're at it.
Sausage Sizzle Vs Bin Chicken


Good Luck ya' Legends and have some fun this summer!

For a full list of Terms and Conditions, please click here